Inside The Underbelly Of Karachi
A lot has been written about Karachi's housing reality and problems and in very great detail. However, there are a few issues which need to be elaborated. One is the development of large gated housing estates, mostly on the periphery of the city and the impact they will have on the social and physical environment of Karachi.
The other is the way through which land is reclaimed from mangroves and mudflats for low-income housing. These mangroves and mudflats are the nurseries of flora and fauna of the coastal areas. The third is the continuing expansion of pavement hotels and dwellings catering to the low-income groups who do not have a roof over their heads and most of whom, it appears, are migrants.
It is necessary to understand the scale of these real estate projects. Bahria Town (186.15 square kilometres) is more than three times the size of Manhattan (59 square kilometres), and DHA City is 47 square kilometres. Other gated communities are also large in size when compared to similar real estate in other cities of the world. They vary between 60 acres (for ARY Laguna DHA City) and 3,000 acres (ASF City). Many others, such as Commander City, Gulmohar City, Seven Wonders City, Karim Palm City, are between 100 and 300 acres.
In addition, there are over 550,000 housing units that are new or under construction in over 150 gated communities. Further, there are more than 120 buildings of between 20 and 50 floors being constructed in the city centre.
On the one hand, the megapolis is seeing the mushrooming of gated housing estates on land on the outskirts that was once used to house low-income communities. On the other, it is also seeing increasing numbers of the homeless on the pavements of the city. How do these two phenomena tie in together? And how does garbage provide the vital link?
Most of the larger housing estates are located on the M-9 Motorway to Hyderabad and on the link roads of the city. Most of the people currently living in villages along the Motorway have been evicted through police-backed coercion by the developers or their 'barras' [elders] have been bought out, to sell the land of their communities.
The people still living in villages along the Motorway are of the opinion that they, too, will be forced out. They are of the opinion that, if they manage to stay, the K-4 scheme will provide water to these gated communities and not to them or the lower income settlements in the area.
As far as the disposal of sewage is concerned, the area contains a large number of hill torrent tracks which will be used as disposal points, creating immense environmental degradation — not only for the city of Karachi, but also for its larger ecological region. Judging from the past, these fears are justified.
With ingenuity, investment and will (all three missing in the real estate sector in Karachi), the water and sanitation problem can be overcome locally. However, an increase of vehicular traffic from these settlements to work areas or for other social and economic purposes will result in further congestion of already congested entrance and exit points to the city and will cause serious air pollution in an age of climate change.
An estimated 100,000 vehicles will enter and exit these housing estates per day, provided they get fully occupied — which seems unlikely for at least 15 years.
WHO WILL LIVE WHERE?
The other question is about who is going to live in these homes? Estate agents believe that, eventually, most of the residents will come from the middle class areas of Karachi, which were previously double-storeyed and can now have high density multi-storey construction on them. A trend that has been observed is that such properties are now being sold at a very high price and their returns are being invested in the purchase of a number of housing units (one for each child) in the new housing estates.
In addition, it is also being said that a large number of purchases are being made by residents of other Sindh towns and also from the province's rural areas. However, many of the existing schemes are undeveloped or empty and their land and housing units — approximately 400,000 of them — are being held for speculation. It is surprising that, in spite of the availability of land, one finds almost no tree plantation in the completed or under-construction schemes.
Previously, land on the city periphery has been utilised for the development of katchi abadis. However, today, it is increasingly being used for the development of elite and middle class housing, and its price is beyond the affordability of low-income communities. Also, it is too far from work areas, increasing travel time and making the cost of commuting unaffordable.
But Karachi's informal housing market has found solutions for low-income housing which are nearer to the city and somewhat more affordable.
GARBAGE FOUNDATIONS
At many locations along the coast, land is being reclaimed for low-income housing. Early in the morning, government and other trucks carrying garbage, debris and other forms of solid waste move into the coastal mangrove marshes and mudflats, and start depositing their contents on them.
Informally, hired government tractors level out the garbage and, in some cases, government-owned bulldozers compact it. The "developers" say that this work is a joint venture between them and government officials, without whose support their "project" would not be possible.
Large areas of the city, such as Sultanabad, parts of Keamari, Shireen Jinnah Colony and coastal villages have been colonised in this manner. The land is sold even before it has been reclaimed. A piece of paper is given to the prospective owner with a telephone number of the developer, the size of the plot, and the payment that has been made for it.
Once the plot is "ready", the owner moves in and starts construction. He spends a lot of money on filling his plot with garbage, earth or debris, and compacting it to whatever extent he can, so that he can build a home. In most cases, because of insufficient compaction, the plot sinks and is filled with water during the rains. So, very often, it has to be refilled and re-compacted.
This is one of the cheapest ways of acquiring a residential piece of land in Karachi. It is interesting to note that, despite the rains and the intrusion of the sea into the nullahs and creeks of the city, no action has been taken by the government to prevent the reclamation of land from the mangroves and mudflats.
Instead, over 6,000 households have been made homeless due to the bulldozing of homes along the Gujjar, Orangi and Mahmoodabad nullahs, with the assumption that such bulldozing will prevent flooding of the city — something that the last rains proved was not a valid assumption.
Apart from the serious physical damage this process does to the city, its environmental repercussions, as mentioned before, are even more serious. The shift from developing katchi abadis on lands belonging to goths on the city's northern and western periphery to coastal areas has a number of reasons behind it.
After the expansion of the city, the goth lands have become far away from places of work, recreation and social facilities. Access to them is time-consuming and transportation is expensive. In addition, the land along the coast is also not much more expensive but it involves considerable expense at raising its level through earth-filling and compaction. However, due to its proximity to the city and an immediate informal piece of paper establishing ownership, the "owner" is willing to bear the extra cost.
THE JOURNEY OF WASTE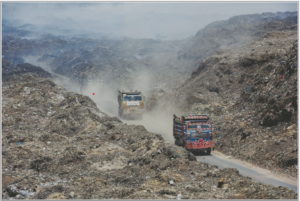 Garbage dumping in Karachi's landfill sites is a source of pollution and health ailments for residents of the area | Tahir Jamal
The solid waste being used for the reclamation of land from the sea also has a story behind it.
Its management has been handed over to a Chinese company, which is supposed to pick it up from all homes, parks and markets. As a result, the cost of managing solid waste has gone up considerably but still, the old manner of lifting and disposal has not radically changed. What happens is that the company sublets the collection and disposal of garbage to a subcontractor, often a political person of importance in the district, and signs an agreement with them. The company pays this person for this job on the basis of that agreement.
In theory, the garbage is to be picked up and taken to a designated garbage transfer station (GTS), where the recyclable material is removed and sent to the recycling units in the city. The residue is sent to the landfill site or informally sold for reclaiming land and filling under-construction plots.
Formally, only one landfill site is operative and is located in District West, but garbage is also disposed off along informal dumping sites along the Korangi Creek. However, it has to be stated that all garbage does not reach the GTS, but is collected by Afghan boys from people's homes, kachra kundis [streetside garbage dumps], city markets and even the collection points of the Chinese company.
It is carried to the informal sorting areas by bicycles, three-wheelers and suzukis. These informal sorting areas are spread all over the city in Gulshan, Korangi and along the Lyari riverbed at the nodes of the Lyari Expressway. They also exist in abandoned parks and in large plots, which have often been forcibly occupied by the solid waste operators.
The recycling units to which the recyclable garbage is taken are mostly in Sher Shah and Korangi. Here, discarded pieces of paper are recycled into new paper and cardboard. Glass, metal and plastic are also recycled along with bones, and rags are pulled by rag-pulling machines and turned into fluff for upholstery.
Garbage is also sold to the communities living on the landfill sites by both the subcontractors of the Chinese company and the informal collectors. The communities set it on fire and then, through magnets, reclaim any pieces of metal the ashes contain. The reclaimed metal is sent to small foundries for recycling.
Fifteen to 20 years ago, Karachi's social scientists and planners were very proud of the fact that, unlike Bombay, very few Karachiites lived on the streets. However, that is no longer true. An increasing number of individuals — and even entire families — today live on pavements, in abandoned parks and under bridges.
DEGRADING THE ENVIRONS
The landfill site in Karachi is not designed as a landfill, but simply as a dumping ground for garbage and, as such, it is highly polluting. The neighbours of the dumping site and of the recycling industry have constantly complained of the pollution that they cause, and some of them have also initiated cases against the recyclers. According to the media, residents of settlements on the periphery of the District West landfill site have often complained of various ailments, which are related to the pollution it causes.
It is claimed by the recycling industry operators, and also by the media, that the Pakistan recycling industry also imports recyclable material from the Gulf, since recycling it and selling the produce is a very lucrative business.
There are five GTS in Karachi. Each district is supposed to have one, but only five of Karachi's seven districts have a GTS. On the way to the GTS, the worker accompanying the driver picks out valuable items from the trash collected, which he and the driver later distribute amongst themselves.
At the GTS, there is a further categorisation of the solid waste collected to separate any useful leftovers from the garbage. Ahead of the GTS, another contractor comes. He collects about 12-15 trucks of leftover trash into a dumper, which is then taken to a landfill site. After reaching the site, the driver sells the dumper-truck's waste to the people residing there.
The cost of the garbage in the dumper is determined by where the garbage comes from. If it is from richer neighbourhoods, the price is high because the 'quality' of garbage is also higher. Garbage from low-income settlements, on the other hand, has very little recyclable material in it, and so it is cheaper.
The residents at the site are formerly Hindu families who have converted to Islam and call themselves Sheikhs. Nearly 350 such families live here along with their children. The site is foul-smelling, full of stray dogs and pests, and many of the residents are shoeless. There are no facilities for them and no schools for their children. However, the Hub canal passes by the site, where people can bathe by paying the police located there Rs 50 per dip into the canal.
In 2001, a study suggested that proper facilities should be provided for not only the residents of the site but also for the Afghan boys who pick garbage from various sources and that the recycling industry should also be shifted to near the landfill site. However, the contractors controlling the Afghan boys refused this suggestion because no free food for them would be available at the landfill. In the city, they were provided free food by various charities and at mazaars, so the proposal fizzled out.
There are many local-level solutions in Pakistan of solid waste management at the neighbourhood level, but they have never been utilised at a city or even district level.
A RISING HOMELESSNESS
A map of Bahria Town Karachi superimposed on satellite imagery of New York City | Mapping by Rida Khan
Fifteen to 20 years ago, Karachi's social scientists and planners were very proud of the fact that, unlike Bombay, very few Karachiites lived on the streets. However, that is no longer true. An increasing number of individuals — and even entire families — today live on pavements, in abandoned parks and under bridges.
However, the 2017 housing census informs us that there are only 5,000 persons who are homeless in the city. Dr. Noman Ahmed's very informative study on homelessness informs us otherwise, and so does the work we carried out for the 'Study of Urban Challenges in Karachi from the Perspective of Poor Communities'.
There are various types of homelessness and many different ways in which people manage to survive. There are individuals who have a home but prefer to sleep in a park or on the street so as to save travel costs between their place of work and home — which is on the city periphery. They visit their home on the weekend or public holidays. To access toilet facilities, they either go to the mosque(s) nearby or they reach an agreement with the park manager, who then makes the park facilities available to them at a cost. These are mostly single men.
Another way in which homelessness manifests is through entire families, often from the "lower castes", occupying space with their belongings underneath bridges or in open-air, vacant public areas. The local administration gives them protection in exchange for some money. In case of police action to evict them, they find another similar place to live — and the cycle repeats.
Apart from this, another form of survival for the homeless exists. They find refuge under bridges such as the Lilly Bridge in Clifton. These families rent charpoys from nearby hotels or junk shops for Rs 50 per night. Every family takes the number of charpoys they need and selects a spot that will provide them with some sense of privacy.
While members of a family sleep huddled together on these charpoys, multiple families tend to sleep in close proximity to one another, for an increased sense of safety. One member of each family stays awake during the night to stand guard against potential theft and harassment.
The shopkeeper who rents out these charpoys then sends his worker to collect money from these families. This process goes on every day till these people relocate to another location, either in search of work or due to the continuous trouble given to them by city authorities. New families are fast to fill in their spots.
DEPLORABLE LIVING
Many of these people are migrants who have come to Karachi looking for livelihood or those who have been evicted from their homes by their landlords. They are, however, pushed to live in deplorable conditions without the security of a permanent shelter because their lack of employable skills and social capital renders them unable to secure a decent life quality due to the ever-rising cost of living.
Many of these people try to make a living by performing various types of work during the day, such as selling balloons, polishing shoes, taking on odd-jobs, or even resorting to begging. Their cumulative income is just enough to get them through the day. The meagre sum they collect is insufficient to meet their formal housing needs, and the conditions they end up living in expose them to a variety of health and safety hazards. In the absence of social welfare systems, whatever little they could have saved goes into taking trips to the doctors and paying their bills.
At times, one can even spot a makeshift kitchen or a temporary washroom close to these dwellings, but people are wary of utilising these facilities even when they are available, since they are afraid that, in their absence, their belongings will be stolen.
Since they do not have cooking facilities, they have to buy food from nearby dhabas; when low on cash, they take food from whoever offers it to them. Drinking water is bought, costing about Rs 30-50 per can. This water is not chlorinated and is simply filled from the tap by dhaba owners and sold to these people.
Most of the families have infants and young children living with them who suffer from various stomach and skin diseases because of the poor quality of water they consume and the absence of basic hygiene from their daily lives. When a visit to a doctor is needed, they prefer going to the nearby clinic rather than government hospitals. This is because of the unsatisfactory treatment they receive at the latter — from having to wait endlessly, only to know that their turn will not come, to being ill-treated by the staff, who view them with suspicion and hostility.
Most of the homeless people around Lilly Bridge use the washrooms available at the railway station to shower on alternative days, or whenever they can afford it. A shower visit costs Rs 50. However, not everyone is able to avail of this service.
Mothers can frequently be seen giving their young ones a bath in open spaces when water is available to them, though at times they have to go on for days without a single shower. Not having proper sanitation facilities is especially difficult for women, who end up facing serious harassment from the men around them.
Similarly, there are pavement hotels that lay out rows of charpoys on the footpaths, mostly near transport terminals, railway tracks and small business areas. They provide their customers with drinking water and toilet facilities in exchange for Rs 100 per day. Most of these people have come to the city to find work or settle their administrative, business or personal issues.
WHAT DOES IT MEAN FOR THE CITY?
What the development of these huge gated housing schemes mean to the city of Karachi in physical and environmental terms is fairly well understood. It means the loss of whatever little farmlands are left in the city, the loss of water resources, and congestion due to an increase in human beings and vehicles. It also means an increase in air pollution and the need for the creation of new and expensive transport systems, linking these gated settlements with places of work, education, entertainment and recreation.
However, the most serious repercussions will be social. This is something that has not been researched. How will the inhabitants of these settlements relate to the rest of the city? These settlements are bound to have a low-income informal services sector, for which no planning has been done. Will low-income katchi abadis emerge next to these settlements to fill this gap? We desperately need to understand these issues and respond to them in planning terms.
The Sindh Solid Waste Management Board work has improved garbage-lifting and street-cleaning in certain areas of the city, but it has a long way to go to serve the city as a whole. In the media and in research done by the Urban Resource Center, issues related to low payments by subcontractors to the workers have also been made and need attention.
The dumping of garbage in marshes and mudflats also creates serious problems of draining out water to the sea. It is surprising that, in a city that floods so often, the state has not taken any action against this.
Meanwhile, various forms of homelessness are rapidly increasing, especially pavement hotels. This trend is taking root throughout the city with the exception of parks in district South. If the homeless population continues to rise at this rate, at what point will it become a serious enough matter for those in power to consider the reasons behind Karachi's growing problem of shelterless citizens and to eventually work on remedying it?
Moreover, how will social relations in the country's largest metropolis change as a result of it? Sooner or later, these questions and the ramifications of ignoring them will come back to haunt us.
Header photo by Fahim Siddiqui/White Star
Published in Dawn, EOS, November 27th, 2022