Participatory Development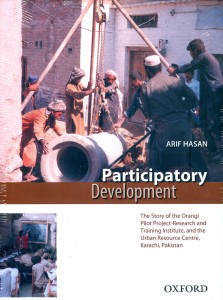 The Story of the Orangi Pilot Project-Research and Training Institute and the Urban Resource Centre, Karachi, Pakistan
This book describes Karachi-based projects which have used a successful model of participatory development. It consists of three parts. Part one provides a background description, including statistics, of the various local and national contexts related to poverty, community, and environment within which the projects have been established.
Part two tells the story of OPP-RTI (Orangi Pilot Project-Research and Training Institute), its origins and culture, and the evolution of its sanitation, housing, and education programmes. It also gives a description and evaluation of the processes, communities, NGOs, government agencies, and donors involved in the programmes. It also studies the impact of the OPP-RTI's work, the principles, advocacy strategies, and policy implications that have emerged from it, and assesses the views of its detractors.
Part three describes the work of the Urban Resource Centre (URC) and the method of research, advocacy, and consultation with the stakeholders in Karachi that has been used in order to promote a more equitable and just model of urban development that benefits the low-income communities which form the vast majority of the city's population.
Find this book on the Oxford University Press website.